Massage Basics
Massage is the practice of rubbing and kneading the body using the hands. There are several types of massage that focus on different parts of the body or healing approaches. Keep reading and decide which type of massage might be right for you.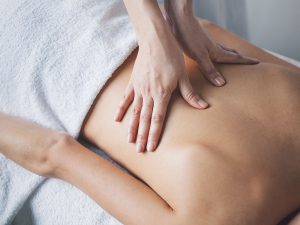 Swedish massage
Swedish massage is a gentle full-body massage that's ideal for people who:
are new to massage

have a lot of tension

are sensitive to touch
It can help release muscle knots, and it's also a good choice for when you want to fully relax during a massage.
For this massage, you'll remove your clothes, though you may choose to keep your underwear on. You'll be covered with a sheet while lying on the massage table. The massage therapist will move the sheet to uncover areas that they are actively working on.
The massage therapist will use a combination of:
kneading

long, flowing strokes in the direction of the heart

deep circular motions

vibration and tapping

passive joint movement techniques
Usually, a Swedish massage will last for 60–90 minutes.
Hot stone massage
Hot stone massage is best for people who have muscle pain and tension or who simply want to relax. This type of therapeutic massage is similar to a Swedish massage, only the massage therapist uses heated stones in lieu of or in addition to their hands. It eases muscle tension, improves blood flow, and relieves pain by using heated stones. Hot stone massage may help:
ease muscle tension

improve blood flow

alleviate pain

promote relaxation

relieve stress
During a hot stone massage, heated stones are placed on different areas around your whole body. Your therapist may hold a stone as they massage different parts of your body using Swedish massage techniques using gentle pressure. Sometimes cold stones are also used.
You don't wear clothes for hot stone massage unless you'll feel more comfortable wearing your underwear. You will be covered with a sheet. Usually, the massage is 90 minutes long.
Aromatherapy massage
Aromatherapy massages are best for people who want to have an emotional healing component to their massage. This type of massage can help:
boost your mood

reduce stress and anxiety

reduce symptoms of depression

relieve muscle tension

relieve pain
Aromatherapy massages combine soft, gentle pressure with the use of essential oils. Your massage therapist will usually decide which essential oils to use, but you can let them know if you have a preference. Essential oils are diluted before being applied to the skin.
During the massage, you'll be given a full-body massage while inhaling essential oils through a diffuser and absorbing them through your skin. Sometimes an aromatherapy massage will only focus on your back, shoulders, and head. You won't wear any clothing other than underwear, which is optional.
An aromatherapy massage is 60–90 minutes.
Deep tissue massage
Deep tissue massage uses more pressure than a Swedish massage. It's a good option if you have chronic muscle problems, such as soreness, injury, or imbalance. It can help relieve tight muscles, chronic muscle pain, and anxiety.
During a deep tissue massage, your massage therapist will use slow strokes and deep finger pressure to relieve tension from the deepest layers of your muscles and connective tissues. You can be naked during this massage or wear your underwear.
The massage will last for 60–90 minutes.
While deep tissue may be more intense, you shouldn't feel any pain or soreness.
Sports massage
Sports massage is a good option if you have a repetitive use injury to a muscle, such as what you may get from playing a sport. It's also a good option if you're prone to injuries because it can be used to help prevent sports injuries. You may also use sports massage to increase flexibility and performance. Additionally, sports massage can be used to relieve pain, anxiety, and muscle tension.
A sports massage can be done as a full-body massage or the massage therapist may focus on the parts of the body that need the most attention. Deep pressure may be alternated with soothing strokes depending on your needs.
You can have a sports massage while clothed or naked. If you prefer to wear clothing, make sure it's thin, loose, and allows the therapist access to your muscles. Loose shorts and a tank top are options.
The massage will last for 60–90 minutes.
Trigger point massage
Trigger point massages are best suited for people who have injuries, chronic pain, or a specific issue or condition. Sometimes areas of tightness in the muscle tissues, known as trigger points, can cause pain in other parts of the body. By focusing on relieving trigger points, this type of massage can reduce pain.
Trigger point massage uses broad, flowing strokes that are gentle and relaxing combined with stronger, deeper pressure. The massage will include work on your entire body, though your therapist will focus on specific areas of your body that need to be released. You can wear lightweight clothing for the massage or be fully or partially undressed.
This type of massage will usually last for 60–90 minutes.
Reflexology
Reflexology is best for people who are looking to relax or restore their natural energy levels. It's also a good option if you aren't comfortable being touched on your entire body. Reflexology uses gentle to firm pressure on different pressure points of the feet, hands, and ears. You can wear loose, comfortable clothing that allows access to your legs.
A reflexology massage lasts for 30–60 minutes.
Shiatsu massage
Shiatsu massage is best for people who want to feel relaxed and relieve stress, pain, and tension. It's a Japanese type of massage that:
promotes emotional and physical calm and relaxation

helps to relieve stress, anxiety, and depression

may relieve headache

reduces muscle tension
Shiatsu massage works the whole body, but your therapist may focus on areas of your body that need extra attention. During the massage, your therapist will use their hands, palms, and thumbs to massage certain points of your body. Pulsing or rhythmic pressure is used. You can be fully clothed during this massage.
Shiatsu massages typically last for 60–90 minutes.
Couple's massage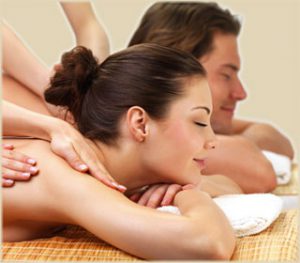 A couple's massage is a massage that you do with your partner, friend or family member in the same room. It brings all the benefits of a regular massage and sometimes provides you with access to the spa's hot tubs, saunas, and other facilities. Other treatments such as pedicures, facials, and body scrubs are sometimes offered as part of a package.
You can usually choose which type of massage you'd like to receive, and you and your partner can each get a different type of massage depending on your preference and the offerings at the spa. Your partner and you will be on tables side-by-side, and you'll each have your own massage therapist working on your body. You can talk during the massage if you wish.
Chair massage
A chair massage is best for people who want a quick massage that focuses on your neck, shoulders, and back. A chair massage can also be a way to introduce you to massage if you've never had one before. Chair massage also helps to relieve stress and promote relaxation. This type of massage uses light to medium pressure.
During the massage, you'll remain fully clothed and sit in a specially designed chair. You'll straddle the chair so that your chest pushes into the back of the chair, allowing the massage therapist to have access to your back.
These massages are usually 10–30 minutes.
Communication 
Always communicate your expectations and intentions with your massage therapist and speak up if there is something with which you aren't comfortable. Talk to your doctor before getting any type of massage if you have any health concerns or conditions.
Massage may be a way for you to feel better physically, mentally, and emotionally. Experiment with different types of massage and with different massage therapists to find the type and provider that is most ideal for you.
Zen Massage Therapists, Salt Lake City
When it comes to massage therapy, no amount of exotic marble, fountains, lights, and monograms on fancy terrycloth robes and slippers can equal the skilled, experienced hands of a master massage therapist. A luxurious interior can make a great impression, but when you're back in your clothes again walking out the door, the only thing that matters is how you feel in the real world. The quality of any spa experience is quite literally in the hands of the therapist. Nobody understands this better than ZEN Massage of Salt Lake City. Our partner-therapists make ZEN Massage what it is. We partner with only the best therapists who share a sincere passion for the craft of healing and the art of massage. But most of all, our partner-therapists are approachable. They know how to listen and to understand. They want to make you feel great. They enjoy what they do because they do it exceptionally well.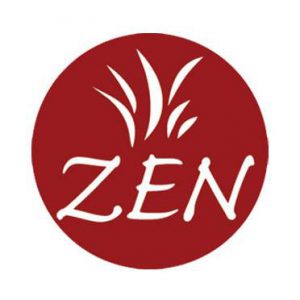 Zen Massage in Salt Lake City
5520 South Van Winkle Expy
Salt Lake City, UT 84117
(801) 467-3529