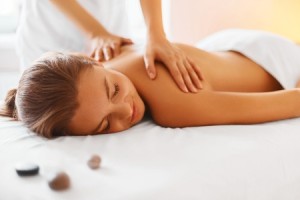 Though it may be hard to believe, some of our newest clients have a hard time fully relaxing and experiencing the benefits of a massage therapy session. So we've created a guide for first-time visitors to get the most out of their massage.
Many people don't realize they should drink a good amount of water before a massage session. Working on your hydration will help the kidneys and organs process the toxins that are often released and flushed during the course of massage work. Preparing your body beforehand ensures you are well hydrated and ready to maximize the benefits of massage.
In terms of booking your massage, feel free to inquire with our friendly receptionist to see what type of treatment will work best for you. Communication with your therapist is always of paramount importance as well. If you have any injuries, sore spots, or preferences on pressure or technique, please share this information with your therapist. This is your time and we want to ensure you are getting the most enjoyment possible. If you have any concern whatsoever or would like the therapist to focus on any one area or adjust the pressure, just ask.
Make sure to arrive early. This will provide us with enough time to check you in as well as allow you a little time to unwind and reach a state of calm before beginning your massage.
During your massage, concentrate on total relaxation. Calm your mind and your thoughts and focus on breathing slowly and deeply. Some people will unconsciously tense or contract their muscles. Make an effort to surrender to total calm and enjoyment the moment.
Following your treatment, you may want to leave your therapist gratuity if you appreciated the service they provided. If you are unsure about the gratuity range, feel free to ask the folks working at our front desk. We look forward to your first visit! To book an appointment today, simply give us a call at 801-467-3529 or book online at Zen Massage.