Healthline has some great info. about getting a massage during COVID-19. We found this article to be very helpful and thought our clients would too.
Experts say it can be safe to get a massage or acupuncture treatment during COVID-19 if certain guidelines are followed.
They urge people to check with businesses to make sure they clean tables in between visits and have sufficient air circulation in rooms.
They also recommend that people decide if a treatment is a necessity or a luxury.
Health officials advise people to remain 6 feet apart during the COVID-19 pandemic, but for services such as massages and acupuncture, that's difficult to do.
So, should you cancel your appointment?
Experts say the answer is complicated.
"Social or physical distancing is not really possible with massage and acupuncture. If the prevalence of COVID-19 in the local community is low and appropriate precautions are maintained, these services can be delivered relatively safely. That said, if the prevalence of COVID-19 infections is high locally, you might want to wait until the number of cases decreases," Dr. Michelle L. Dossett, MPH, an assistant professor of general internal medicine at UC Davis Health, told Healthline.
The Centers for Disease Control and Prevention (CDC) says that SARS-CoV-2, the virus that causes COVID-19, is mainly spread from person-to-person contact. This can be among people who are in close contact and through droplets produced when someone with the virus coughs, sneezes, or speaks.
As SARS-CoV-2 is a new virus, data on its spread on surfaces is limited. But Dossett says it is feasible the virus could be spread via a massage table that hasn't been cleaned.
"If someone who was infected with COVID-19 left respiratory droplets on the massage table an hour or two before your massage, you could theoretically catch it if the table was not cleaned in between clients," she explained. "That said, professional societies and public health guidelines are recommending that massage therapists and acupuncturists do clean table surfaces between clients."
Dossett says there are many ways individuals can protect themselves if they feel they need to continue having acupuncture, massage, or similar services during the pandemic.
"You should wear a face covering. Make sure the therapist is wearing a face covering and requiring other clients to do the same. Consider having a massage or acupuncture session outdoors or, at the very least, in a room with open windows," she said.
"Ask the therapist about their practices to reduce the spread of infection; how often are surfaces cleaned? If indoors, how much time elapses between different clients in the same room? For example, if a massage therapist has two rooms and alternates using them, leaving an open window to air out the room for an hour between clients, that is a lot better than having back-to-back clients in the same room with windows closed," she added.
During a period of sustained stress for many, Kim says services like acupuncture and massage may be more important than ever.
"We have to also consider the health of people holistically. The mental health aspect has maybe affected just as many or more people than COVID itself. We have to be cognizant of that," she said.
"There are a lot of patients that may benefit from acupuncture and massage, and it should be considered a medical modality and obviously those are allowed during this time. It can be done; we just need to be thoughtful about it," she added.
Read the full Healthline article here: https://www.healthline.com/health-news/are-massages-and-acupuncture-treatments-safe-during-covid-19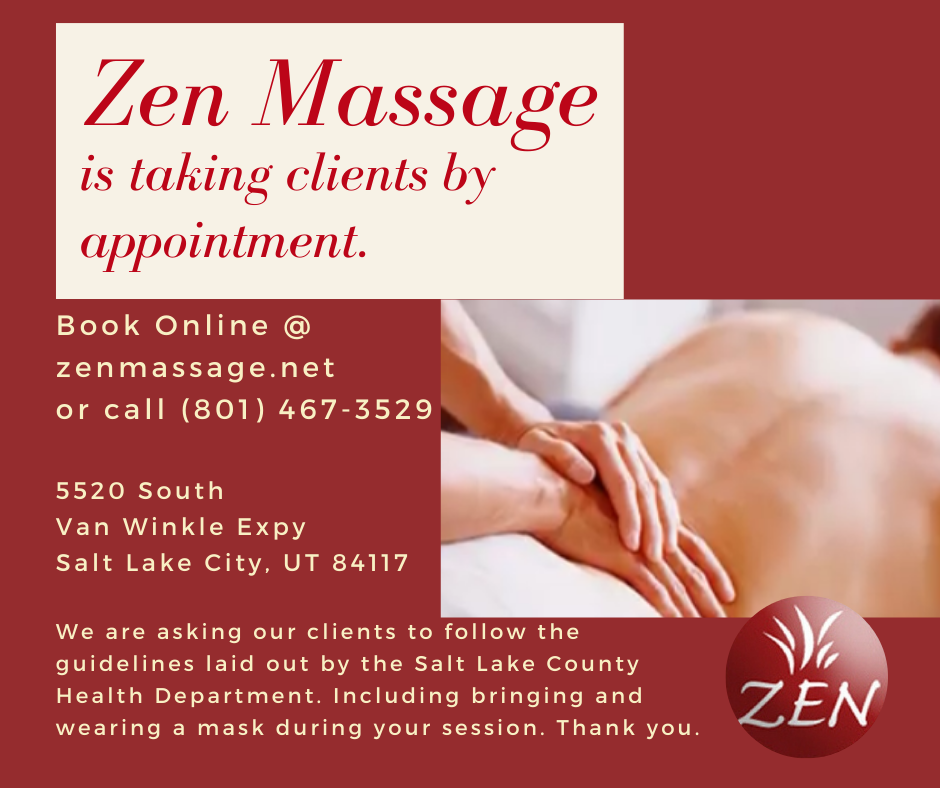 (801) 467-3529
5520 South Van Winkle Expy. Salt Lake City, UT 84117
Book online: https://bit.ly/2ZYVnMK