Take advantage of our Anniversary Special!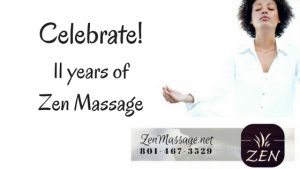 Celebrating 11 years of Zen Massage!
In 2006 ZEN Massage, of Salt Lake City, opened its doors. Reinventing the standards of modern massage, Zen Massage has helped countless clients relax, renew, and get back to a state of Zen.
Our staff, our service, and our facilities are devoted and designed with a feeling of calm comfort, creating an atmosphere of quality Zen, for your massage. We know that you live a busy life and we are here to help take your mind off the daily stresses and make your massage therapy experience as relaxing as possible.
A Taste Of What We Offer:
Quick Fix Massage Therapy — 30 minutes for $50.00
Basic Massage Therapy — 60 minutes for $85
Deluxe Massage Therapy — 90 minutes for $125
ZEN Massage Therapy — 120 minutes for $150
Anti-Cellulite Massage — 30- and 60-minute Sessions
Our mission @ZenMassageSaltLakeCity has been and will continue to be reinventing the standards of modern massage therapy. From our opening day, we have pursued extremes in quality and service that go far beyond what is considered "adequate" in the massage industry today.
Our clients expect and deserve the best, and we provide nothing less.
Zen Massage Anniversary Special!
We are so excited to celebrate 11 years of Zen Massage. We would like to thank our customers and give them a special appreciation gift. Receive a thank you credit gift of $11 every time you complete a massage.  Keep your rewards and accumulate them to redeem for future massages.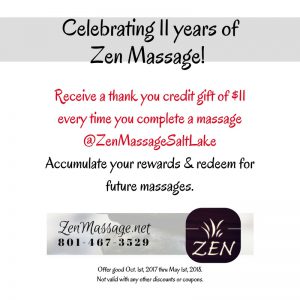 Offer good Oct. 1st, 2017 thru May 1st, 2018.
Not valid with any other discounts or coupons.
Try our online scheduling feature to schedule your next massage. Book My Massage @ Zen!