Repetitive motion injuries, such as Golfer's Elbow, are on the rise.�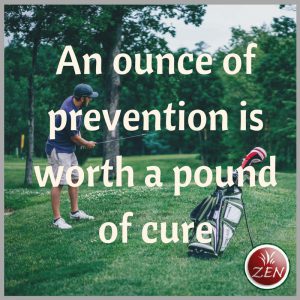 If you begin having an intense pain in your inner elbow and forearm, or have difficulty gripping and lifting things, you may be suffering from a condition known as golfer's elbow,�which, occurs as a direct result of repetitive motion, generally done incorrectly, over a long period of time.
You don't have to play golf to get golfer's elbow
Golf

Tennis

Bowling

Football

Archery

Baseball

Carpentry

Plumbing
All of the above can cause Golfer�s Elbow or medial epicondylitis. It happens when repetitive motion irritates the common wrist flexor tendons near their elbow. The irritation causes pain and decreased functional use of your elbow.
For athletes, Golfer's Elbow is often brought on by using the wrong equipment, like a golf club or tennis racket that is too heavy or that has a grip that is too large.
Symptoms typically include
Pain on the inner, or medial side of your elbow

Forearm pain

Difficulty gripping and lifting items

Pain when flexing your wrist
The key to preventing golfer's elbow is to avoid overuse. If you feel any pain in your elbow during an activity, stop before it gets worse.
Treatments
A few sessions with your sports massage therapist may be in order to help you gain control of your condition and get back to normal activity.
Sports massage is beneficial for Golfer�s Elbow and for rehabilitation of previous injuries. At Zen Massage our therapists work on the injury location as well as on the muscle groups associated with the injury that may be causing additional pain from over-compensation due to the injury.
Stretches can also be helpful in controlling the symptoms of golfer's elbow. These should be simple stretches and should not cause pain, and if they do they should be�stopped until the pain resolves.
Exercises, also simple ones can be done to help strengthen the muscles and tendons involved with golfers' elbow, by building up the muscles using�proper motions you can help prevent the problem from returning.
Golfer's elbow usually heals with simple treatment, and does not cause any long-term elbow problems. Treatment is rarely surgical, as this condition is well managed with a little rest and proper treatment and rehabilitation.
Note: Golfer's elbow, or medial epicondylitis, should not be confused with tennis elbow, or lateral epicondylitis.
The massage therapists at ZEN Massage are ready to get you back in playing form. Contact us for Sports Massage Therapy in Salt Lake City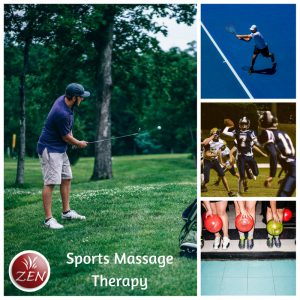 Sports / Injury Therapy � 45 minutes for $65
Call (801) 467-3529
Sources:
http://zenmassage.net/sports-massage/
https://paindoctor.com/prevent-tennis-golfers-elbow/
https://www.verywell.com/kinesiology-tape-for-golfers-elbow-2696038
http://golftips.golfweek.com/cure-prevention-golf-elbow-20309.html
https://www.webmd.com/fitness-exercise/golfers-elbow-prevention
https://www.verywell.com/physical-therapy-for-golfers-elbow-2696438�