Deep Tissue Massage in Murray, UT.
When recurring pain is an issue for you, one of the best treatment methods for many, is deep tissue massage. At Zen Massage Salt Lake, our goal is to give every patient relief and relaxation from their busy, tense life to slow down and address the issues that have built up in their body and mind. We are confident that you will walk away from every treatment feeling relaxed and restored.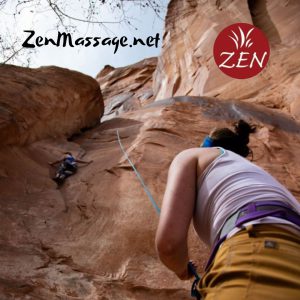 What Is Deep Tissue Massage?
Deep tissue massage is one of our most popular forms of massage – it focuses on firm pressure and includes many of the same strokes as Swedish massage. Deep tissue massages usually consist of firm pressure being applied slowly, over time, with the goal of fascial and myofascial release.
There are many myths that circle the practice of deep massage, one of them being that the pressure is very intense. While it is true that deep tissue massage utilizes firm pressure, we at Zen Massage understand that everyone is unique and has varying degrees of comfort regarding what is enjoyable. We understand that the key to your enjoyment of any massage is going at a pace that suits you. We gently apply pressure in a slow, consistent manner and encourage your feedback throughout the process, which allows us to fine tune every single massage to your particular comfort level.
Deep Tissue Massage Offers Pain Relief
If you suffer from pain or discomfort in your shoulders, neck, or back, deep tissue massage is a fantastic way to treat you. While the areas above of the body are what most people associate with the practice of deep tissue massage the reality is that we can treat many issues in most regions of the body using this technique. Because we are well-versed in a variety of massage techniques, we can utilize many different methods during a single session to resolve any pain issues you may be experiencing.
Pain Caused By Outdoor Activities Can Easily Be Treated With Deep Tissue Massage
At Zen Massage Salt Lake, we are all about the mountains. We love to get outdoors and enjoy the natural beauty that surrounds us in this wonderful corner of the world! Whether it be an ache or pain caused by playing sports with friends, or a twisted ankle sustained on a lofty mountain trail, we get it! Let us know what you do, and we will let you know how we can help to get you back in perfect condition for every season.
Deep Tissue Massage in Salt Lake City –  Zen Massage
(801) 467-3529
5520 South Van Winkle Expy
Salt Lake City, UT 84117