If you're looking for a memorable Valentine's gift, that will strengthen your relationship, booking a couples massage is just the thing to help you relax and reconnect with the person you love most.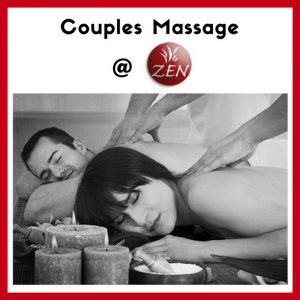 The power of touch offers major mind-body health benefits. Studies have shown that aside from reducing mental and physical stress, couples massage actually increases the feeling of affection between couples. Couples massage may as well be called a scientific love potion.
Benefits of Couples Massage
Time Together
Most couples struggle with making time in their busy schedules to spend quality time together.  A couples massage gives you time to relax together and is a wonderful way to purposefully and intentionally reconnect.
Increased Affection
Massage releases oxytocin, serotonin and dopamine in the body, which increases feelings of affection and intimacy, helping couples feel connected and happy both during the massage session and after.
Enjoy the Present
The practice of being fully engaged in an activity together helps couples reconnect, and with a little effort, they can bring that same level of mindful awareness to their relationship more of the time. 

Relationships can get bogged down by uncertainties of the future and memories of the past, but massage encourages couples to embrace the present. During a massage session, people tend to instinctively "let go" and turn their attention to the present moment.
New Experiences
Couples who experience new things together, such as massages, bond more closely with each other and encourage more rewarding connections. Trying new ways of getting to know each other is key to a long and happy relationship.
Couples massage is also a great way to introduce your partner to massage in a more comfortable environment. Many people are hesitant at first to the idea of massage, but a couples' massage allows you to familiarize your partner with the massage process and show them the immense benefits of therapeutic massage while reassuring them along the way.
If you're interested in booking a Couples Massage in Salt Lake City, Contact Zen Massage Today.
Take Advantage of our Valentines Special – *Book before February 10th, 2018 & get $25 off a 90 Minute Couples Massage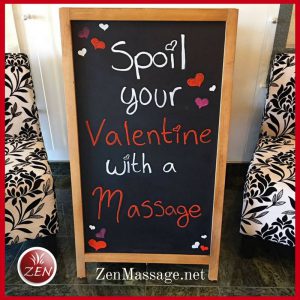 Book Online Now or Call – (801) 467-3529
Remember, Valentine's day is not just for couples, you can use this day to show all the most important people in your life how much you love and appreciate them, with a Zen Massage Gift Card