Cleaning up around the house is a physical task that often results in muscle pain and soreness.
When it comes to yard work or even deep cleaning our homes, most of us don't really stop to think about how we are lifting. It's important to lift properly, even when handling a lightweight box or reaching for something small that is just a little beyond our reach. It's common for Massage Therapists to get a lot of clients coming in for sore back, stiff neck, knee pain, and/or muscle spasms during the spring season.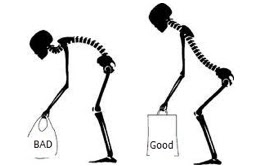 Lifting should be done with a straight neck and back, about 45 degrees angle from the ground, legs bent. Most of the lift is really coming from your legs and gluteal muscles. They are a lot more powerful than the many smaller muscles of the back and spine. Even when what you are about to lift from the floor is just a few pounds, it's best to lift properly regardless of the weight you are about to pick up.
The more you practice proper lifting (with your legs and NOT your back), the easier and less likely it will be for you to lift improperly later because by then it's automatic.
Not only do we lift improperly, but some of us also seem to do a twist in the middle of lifting. That usually results in immediate spasms in the mid to lower back. Remember, that when we lift AND twist our backs, we are then pulling the muscles.
It is not recommended to contract your muscle while twisting and thus stretching. This combination could result in muscle tearing.
There are two common types of lower back strain:
A muscle strain happens when the muscle is over-stretched or torn, resulting in damage to the muscle fibers (also called a pulled muscle).
A lumbar sprain happens when ligaments are stretched too far or torn. Ligaments are very tough, fibrous connecting tissues that connect bones together.
For practical purposes, it doesn't matter if it is a muscle strain or a ligament sprain that is causing the pain, since the treatment and prognosis for both are the same.
When the muscles or ligaments in the low back are strained or torn, the area around the muscles will usually become inflamed. The inflammation leads to back spasm, and it is the back spasm that can cause both severe lower back pain and difficulty moving.
The best way to NOT have any of these symptoms is PREVENTION. That means proper body mechanics and proper posture.
So before you start your spring cleaning projects, please make sure you set your massage appointments within a few days after each project. That way you can recover from any muscle fatigue or soreness that has resulted in this once-a-year physical event. Your body will thank you.
If you want the best masseurs in Salt Lake City, set up an appointment with ZEN Massage today! Book Online or Call (801) 467-3529
Zen Massage
5520 South Van Winkle Expy
Salt Lake City, UT 84117