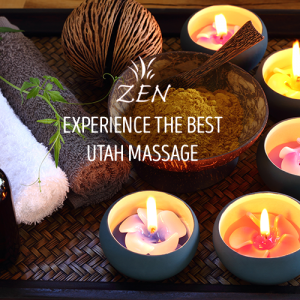 There are many reasons people might seek out massage therapy, but stress relief tends to be the most popular. In general, stress is anything that poses a challenge or a threat to our well-being. Associated with both minor and major health ailments, relieving stress is an important component of maintaining emotional and physical well-being. Plenty of research has found that massage therapy is an ideal stress relief tool, but some massage techniques are better at achieving this goal than others.
Designed as a survival tool, stress activates the body's fight-or-flight response. This occurs when the sympathetic nervous system responds to stress by producing large quantities of the chemicals cortisol, adrenaline and nor-adrenaline. These chemicals trigger a quicker heart rate, muscular tension, sweating and alertness to help protect us from danger – enabling people to react quickly to life-threatening situations.
Unfortunately, this fight-or-flight response can be triggered by non life-threatening events and it can become chronic. Over time, repeated activation of the stress response takes a toll on the body. Research suggests that prolonged stress contributes to:
high blood pressure
promotes the formation of artery-clogging deposits
causes brain changes that may contribute to anxiety, depression, and addiction
obesity
insulin dependence
Going above and beyond nature's call to shield ourselves from danger, an estimated 75 percent of Americans experience significant levels of stress. According to the annual stress survey commissioned by the American Psychological Association:
About 25 percent of Americans are experiencing high levels of stress (rating their stress level as 8 or more on a 10-point scale).
About 50 percent of Americans report moderate levels of stress (a score of 4 to 7 out of 10).
Accordingly, there is a great need for effective stress relief methods. Many studies have demonstrated that massage therapy is an effective stress relieving modality as evidenced by reductions in cortisol, adrenaline, and nor-adrenaline. One example was recorded by Mayo Clinic researchers in a study published in a November 2012 edition of Complementary Therapies in Clinical Practice. Not surprisingly, weekly 15-minute chair massages for nurses during work hours significantly reduced stress-related symptoms.
With so many modalities utilized by massage therapists, those seeking help with their stress levels may have difficulty choosing from a menu of massage styles. To help determine what type of bodywork to pick, the top four massage modalities for stress relief are listed below:
Swedish Massage – The most common type of massage, Swedish massage uses a variety of motions to decompress muscle tissue, release tension and break up muscular knots. The strokes used in Swedish massage are percussion, shaking, long strokes, vibration, kneading, and friction, which enhances blood circulation, stretches tendons, lowers blood pressure and induces relaxation. However, the long, smooth, gliding strokes are typically regarded as the most relaxing component of a Swedish massage.
Head Massage – Bodywork focusing on the cranium is a known stress reliever. There are thin muscles on the scalp that can hold a great deal of tension. Besides including massage of the scalp within a Swedish massage session, the traditional Ayuverdic head oil massage known as champi is an especially relaxing treatment.
Aromatherapy Massage – By adding essential oils to massage oil or lotion, aromatherapy massage can be a powerful way to de-stress. The nostrils are attached to the limbic system, an area of the brain that controls emotions and influences the nervous system and hormones. As such, inhalation of the essential oil molecules can directly influence physiological and emotional components of stress. The oils most known for their relaxation effect include geranium, lavender, and chamomile.
Auricular Acupressure – Considered a microsystem for the entire body, the ear is compared to an inverted fetus; with the head on the lower ear lobe, the feet at the top of the ear, and the rest of the body in-between. Containing several hundred pressure points, massaging the ear in the area corresponding to the central nervous system encourages the release of endorphins – the body's natural stress-relieving hormones.
Chronic stress is rampant and can be reduced with massage therapy. Unless under an immediate threat, the fight-or-flight stress response is not wanted – and ends up creating more problems than it solves. With such a high percentage of Americans burdened by significant stress levels, massage therapists should be in high demand. By offering Swedish massage, head massage, aromatherapy massage and auricular acupressure, bodyworkers will be highly effective at melting their clients' stress away.