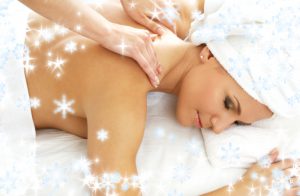 The holiday season may be the most joyful and exciting part of the year but it can also be one of the most stressful. Despite the colorful lights and loving attitudes that accompany December's holiday season, the stress of buying the perfect present or deciding who to spend the holidays with can become overwhelming. What better way to combat this holiday stress with a little present for yourself in the form of a Holiday Massage from Zen?
A good holiday massage can reduce your stress and also keep your spirits up during the frigid weather the holiday season brings with it. A hot stone massage could help warm your inner core during this icey cold season.
Lets not forget that the holiday season can be stressful for your loved ones as well. If you're still looking for a present for a loved one, why not give the gift of relaxation through a Holiday Massage? If you would like to give this gift to a loved one, click here to see our gift card prices.